Choosing the most reliable residential roofing contractors in the Winston-Salem, NC area doesn't have to be a stressful ordeal. In fact, choosing the right roof installers should make your life easier, not harder! A reliable company is within reach when you follow some simple steps to taking care of your home, budget, and sanity.
Talk to your neighbors about their roofs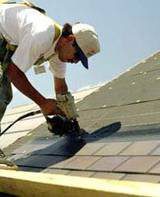 When choosing reliable residential roofing contractors in the Greensboro, High Point, Kernersville NC and Triad area it is a good idea to start with a company with a good reputation. Call a neighbor or ask a friend who has had recent roof repairs or replacement what they liked about their roof installers. Look for companies who offer those same traits!
Of course, if you're new in town you are probably wondering where to turn. A reputable and reliable roofing contractor should have a good reputation with the Central Carolina Better Business Bureau and should be a Better Business Bureau A+ rated Accredited Business.
Are you still wondering how to go about choosing a reliable roof installer in Winston-Salem? Roof installers should understand remodeling design and construction. It's always a good idea to hire roofing contractors who have experience; Triad Installations only hires contractors with at least ten years of experience and thorough training. You can be confident that the roof installers on your roof know what they are doing!
What happens after repairs are finished?
But what happens when those experienced contractors go home? What if something goes wrong? You should be confident in the company you hire! Triad Installations even goes so far as to offer a five year guarantee on its workmanship, and any possible issues will be fixed quickly and efficiently. This added benefit of hiring a reliable Triad area company means that you can be confident that you spent your money wisely.
Do I need an estimate?
Before you jump in and start a roofing project on your home, you might consider having an estimate done. An estimate takes into account the size of your home, the amount of materials needed, and the type of roof you are interested in. Then, with all of those factored together, you and your trusted roofing expert will determine the best way to meet your needs while still staying safely within your budget. Choosing the most reliable residential roofing contractors means the roof estimate process is easy on the homeowner, because the goal is to make sure your needs are being met! Winston-Salem, Greensboro, High Point, and Kernersville, NC residents can rely on trusted roofing professionals to help make home improvement projects a breeze.
Can I get help with storm damage?
If you are dealing with the added stress of repairing your home after recent storms, you might be happy to hear that your home is of the utmost importance to Triad Installations, making it easy when it comes to choosing the most reliable residential roofing contractors in the Winston-Salem, NC area. Getting a visit from your trusted roofing professionals quickly once the storms have passed will help get your life back to normal. Don't leave your important home repairs in the hands of amateurs when there are reliable, affordable professionals available to help you. Call Triad Installations, your Winston-Salem roofing company today and make an appointment for your roofing estimate and feel good about choosing the most reliable residential roofing contractors.