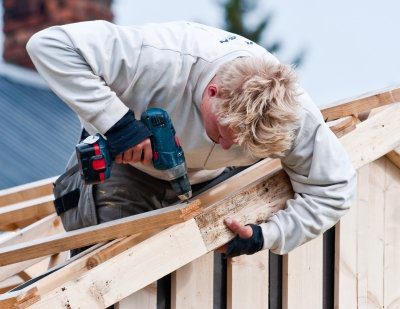 Trustworthy roof installers help Winston-Salem homeowners through the process of roof installation for a living, so not to worry, you are not alone wondering where to start, and there is plenty of help to be found.
As confident as you may be doing routine repairs around your house, when it comes to the all-important goal of keeping a roof over your head, you seek out the professionals. You know a poorly executed roof repair can leave you vulnerable to all sorts of problems later on, any of which could be a larger problem than the initial repair. You know you really do not want to be climbing around on your roof. You know roof experts in your vicinity are well informed about local zoning and building permission requirements. Your search for a reputable roofer in Winston-Salem and Greensboro and the Triad area begins with Triad Installations.
Where do I start?
Residential roofing contractors are listed in the yellow pages, with the Better Business Bureau, with the National Association of Home Builders (NAHB) and online. These days it is a simple thing to check websites of prospective roofing contractors, making it easier to come up with a short list of potential roofing companies. Go to your local building supply store and ask around. Look at bulletin boards in your local coffee shop. Check your local neighborhood streets, and make note of roofing contractor signs posted outside ongoing roofing projects.
What do I look for?
One of the first things to consider when choosing trustworthy roof installers is whether they are likely to still be in business five or six years down the road. That is when problems most commonly crop up. Listen to your instincts, and have faith in your own good judgment. Once you have your short list of roof contractors in Greensboro, High Point NC and the surrounding Triad area, ask for and carefully consider the referrals each gives you. Check every single referral by telephone or with a drive by. Do not take short-cuts. This is the roof over your head we are talking about, and you want to be sure it is properly repaired and installed.
Ask for proof of insurance, including liability for damage to you or your home, or to a third party, and workers compensation insurance. Ask to see a listing of memberships to professional associations, and training certifications each contractor holds. Ask to see local and state permits and licenses. Most important of all, ask for a written estimate. With a written estimate you can better compare not only total price, but materials and services included by each bidder, because price should not be your only (or your most important) consideration. Trustworthy roof installers are happy to answer each and every one of your questions.
Whether you are looking to repair your damaged roof or to replace your roof, Triad Installations in Winston-Salem, Greensboro, High Point, Kernersville, NC and the Triad area are the trustworthy roof installers you have been looking for and they are waiting to answer all of your questions!