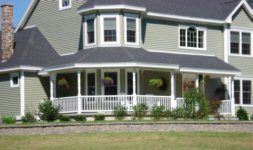 Searching in the Triad for the best roofing contractor
Being a homeowner is full of ups and downs. Most homeowners don't look forward to large repairs like replacing or repairing their roof, but fortunately, the best Greensboro, High Point, Winston- Salem roofing contractors are at your service to make this necessary part of home maintenance a good experience!
Qualities of a good roofing contractor
The best roofing companies are able to pinpoint your exact needs. Whether your roof needs some tender loving care or a complete replacement, you can be sure that a little bit of research will go a long way in helping you find the best roofing contractors to handle your roof repair or replacement.
Asking for references and recommendations is essential
Asking for references when interviewing roofing companies and then following up with phones calls to the homeowners and businesses that hired the roof contractors, is one important step when finding the roofing contractors for your next job. Asking friends and family for recommendations of roofing companies is also a good starting point. This is not a step to skip, especially if you want the best roofing company working on your job.
Find a roofing company with experienced and reliable roofing contractors.  Most are locally owned and operated, because they are experienced with the area's notoriously unpredictable weather conditions. It makes sense to hire roofing contractors who know you will be offering good or bad reviews of their work to friends and family, not to mention putting reviews on social media sites on the Internet. The best Greensboro roofing contractors rely on word of mouth advertising and take care to protect their business reputations.
Damaged roofs need attention fast
Holding off on repairing a damaged roof could be dangerous and end up costing homeowners more in the long run. A reliable roofing company understands that you need help right away, and will schedule a free estimate as quickly as possible. Roofing experts will come to your home and assess damages and will help develop a timeline for repairs and can work around your budget. If you need help, the best roofing contractors will even assist in filing claims with homeowner's insurance. Insurance companies can be tricky to deal with, and knowing that you have someone on your side to make sense of it all can take some of the weight off of your shoulders. Your roofing company will ensure that you are getting the best roof for your home and budget.
Contact the best roofing contractor in the Piedmont Triad area.  You'll have the peace of mind that your home is being treated with respect while your roofing project is being completed within budget and within the time frame you need. Your roof will benefit from this reliable roofing company's care. If you want the best Greensboro roofing contractor on your job, call Triad Installations today.